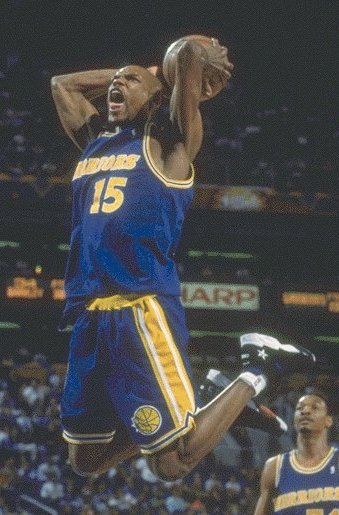 Latrell Sprewell; the man we all loved to hate. When you look into his history, there's a lot to be said. Drafted  by Golden State in 1992, there wasn't much expectations out of him from the beginning. However, when it all said and done, Sprewell became a monster on the court, as well as a monster off of it. Anyone who calls themselves a NBA historian knows the story of Latrell Sprewell.
In 1997, Sprewell was super kicked out of the NBA for choking and assaulting his coach. To this day, the incident haunts Sprewell's image. However, looking at the many other "minor incidents" that Sprewell has had, it's safe to say that Sprewell brought a lot of his bad press on to himself. It's sad that it's has happened that way seeing that Sprewell has had a stellar career as far as performance is concerned.
Sprewell finished his career with averages of 18.0 ppg, 4.0 apg, and 4.1 rpg. Those are stellar numbers for a shooting guard especially in an era where physical play was virtually encouraged. Guys back then were taking more hits than an UFC match. Being relatively skinnier than most shooting guards back then, Sprewell beat a lot of guys with sheer heart. One of the premier defenders of his time, Sprewell made his name with hustle plays; going the extra mile to get a steal. Then there was the finishes. Sprewell was probably one of the best finishers of his era. His game reminds me of Dwayne Wade even if it's because of the freakish finishes around the rim. Sprewell had game. There was no doubt about it. However, it all goes back to the comments and actions of Sprewell that has taken him out of many talks about NBA greats. Let's not also forget to mention that Sprewell was a part of some very good teams back in his time. There was the days with Chris Mullin and Tim Hardaway in Golden State. Then there was the days with Allan Houston  and co in New York. Even in his later years Sprewell found himself in Minnesota with a young Kevin Garnett and Sam Cassell. Times were good for Sprewell on the court. He's had a couple of chances to win an NBA title. Sometimes that's all you could really ask for. One thing that I will say however is that Latrell Sprewell was a member of a trend that featured athletes that looked to be treated celebrities at all times. What do I mean by that?
The minute Sprewell grew into his name, the moment he hit super-stardom, he refused to go back to reality. Getting pissed off because your coach tells you to make better passes, and then choking does not paint the picture of future champion. Telling a team that offers you a lucrative contract that was definitely fair in that time that you refuse to accept it because you "have kids to feed" is not the painting of a future champion. Many upper level NBA officials refused to go for Sprewell simply because he wanted too much. How can a man ask for a $60 million contract when he's on the last legs of his career, and lucky to be back in the NBA to begin with. New York went on a limb on signing him simply because they saw a missing piece in him. To any other athlete that would've garnered some type of humbleness. Read more here…