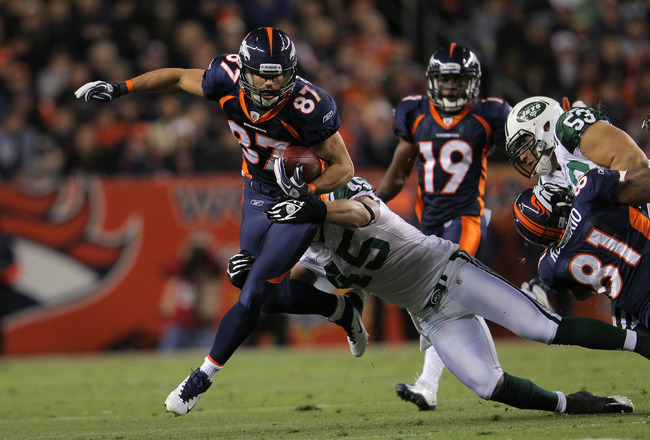 As the 2012 season approaches optimism is in the air no matter what team you are pulling for, heck even the Dolphins said they should win the AFC this year!  So as we look forward to this season, I am going to share a short list of players that will be better in 2012.
This week we cover the Wide Receivers!
Eric Decker, Denver Broncos – This young man is very intriguing to me this year and I think he will be one of the biggest surprises of 2012.  Despite playing in the Tim Tebow offense last year, Decker still managed to land at 32nd in fantasy football rankings among wide receivers last season.  With Peyton Manning now under center in Denver the passing game with thrive again.  Most experts are predicting Demaryius Thomas to get the lion's share of production this year, but I think that will only benefit Decker further.  Thomas is clearly the number one, and Decker will face much more single coverage.  Manning has always found ways to take lesser known players and turn them into production machines, look at Anthony Gonzales, Austin Collie, Brandon Stokley, and Jacob Tamme to name a few.  I would not be surprised to see #87 almost double his numbers from 2011.  He could easily post over 80 receptions, 1,200 yards and at least 12 touchdowns this season.
Titus Young, Detroit Lions – Not often in the NFL do offensive rookies have an immediate impact.  Yes we do see superstars burst onto the scene, but it is definitely not the norm.  Especially on an offense as talent as the Lions.  However, Titus Young was far more productive than many realize.  As a rookie Titus was the 4th highest scoring fantasy player on the Lions offense, and was actually 42nd among all receivers.  The 48 catches for 607 yards and 6 touchdowns was a pretty good start.  Yes Titus showed immaturity over the last 9 months, but all indications out of MoTown are that he has his head screwed on straight.  Reports out of the mini camps are that he has been uncoverable in practices as his offseason work and focus is really showing.  If he can maintain this new level of focus while leaving behind the childish antics, he will explode this season.  I could see over 70 receptions and 1,000 yards with double digit touchdowns for Young this season, as he surpasses Burelson as the team's number two receiver.