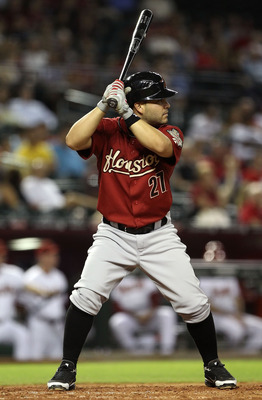 It's a pretty rough time to be a Houston Astros fan now. The Astros are coming off a 106 loss season, which was 7 more losses than any other team in baseball. The 2012 team has looked a little better, but they are still way below .500 and a high 2013 draft pick is a near guarantee. In fact, if it weren't for some unexpected starts by several of the team's players, then this team may have been challenging the Cubs, Twins, and Padres for the worst record in baseball.
Despite all this, there is some hope for the fledgling franchise that has yet to win a world series in its 50 years of existence. For starters, a management upheaval has brought some brilliant new minds to a franchise that was practically plunged for its assets by the Phillies thanks to former GM, Ed Wade. New GM, Jeff Luhnow, brings a philosophy that strongly relies on building from within, and the Astros are determined to do that. They had one of the worst farm systems in baseball a couple of years ago, but an influx of talent from trades and the draft has pushed the system to more middle of the pack. The Astros actually have 3 prospects that made my top 100 prospect list earlier this spring in Jonathan Singleton, George Springer, and Jarred Cosart, as well as one who just missed the cut in Jonathan Villar. The Astros also held the top pick in last week's draft, and they added several marquee prospects, such as Carlos Correa and Lance McCullers jr, that could one day start on the next Astros playoff team, assuming the franchise doesn't fall into Pittsburgh Pirates like stretch.
The franchise also has hope in a young group of big leaguers, that have showed signs of potential thus far in 2012. Former Braves top prospect, Jordan Schafer, has emerged as a valuable big league asset at the age of 25. He is on pace to steal over 40 bases, and a decent walk rate along with average defense in centerfield, could allow the Astros to trade him for something of value. 24-year-old left fielder, JD Martinez, has shown that he may be worth keeping for the Astros. He will likely never hit for a solid average, but he should be a 20 home run type hitter that draws a ton of walks. He's on pace for 72 walks on the season. Infielder Jose Altuve is also showing he could belong in the Astros long-term plan.
Standing at just 5-5, Altuve is an offensive threat in the middle of the diamond. Altuve is strong on the base paths, and he has doubles power and speed which allows him to rack up the doubles and triples. Aside from that, he can just flat-out hit. He is likely a perennial 200 hit second basemen, that should compete for the batting title year in and year out. He is probably the lone all-star caliber talent the Astros have at the big league level. On the pitching side, Bud Norris and Jordan Lyles could be in the fold for Houston long-term. Lyles was rushed to the big leagues, but is still just 21 and could be a number 2 starter. Norris has been a pleasant surprise for the Astros over the past couple seasons. He has been striking out over 9 batters per 9 innings the past 2 years, and the Astros could be forced to make a decision on him soon. He is just 27, so they could choose to keep him to add a veteran presence when some of their younger pitchers start coming up, or they could deal him while his value is high.
Read more here…